Contemporary architecture in Galicia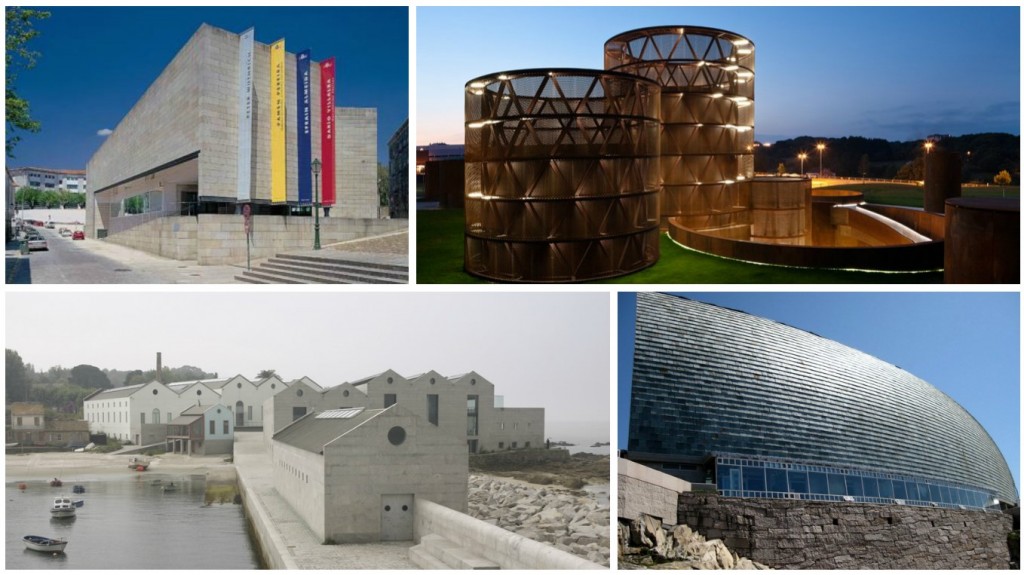 Galicia is a touristic destination well-known mainly because of its historic and artistic heritage, its gastronomy and enology, and for its natural landscapes. However, it is also worth mentioning the modern architecture and the authors that in the last decades have left its mark in the Galician community, creating works of art that have transformed the urban planning of the territory. Now, we will do a selection of 5 essential works of art you must not miss in your trip to Galicia:
Ciudad de la Cultura de Galicia: this architectonic ensemble was designed by Peter Eisenman in 1999, and is still under construction. Placed in the Gaiás Hill, on the outskirts of Santiago de Compostela, it is composed by different buildings with undulations that are inspired in the historical centre of Compostela. (http://www.cidadedacultura.gal/)
Centro Galego de Arte Contemporánea (CGAC): also located in Santiago de Compostela, this building, designed by the Portuguese architect Álvaro Siza, is situated in the surroundings of the San Domingos de Bonaval convent's garden. It is formed by a big block characterized by its simplicity and made of granite in order to maintain the harmony with the monumental heritage of the city. Inside the museum, there are several contemporary art exhibitions of multiple authors. (http://www.cgac.org/)
Museo do Mar de Galicia: in an old cannery factory in the city of Vigo (Pontevedra), we find this group of buildings designed by the architects Aldo Rossi and César Portela. The museum allows the visitor to enter the world of the sea, being able to get to know the history of the Galician fishing industry's development. (http://www.museodomar.com/es)
Domus in A Coruña: designed by the Japanese architect Arata Isozaki, this building hosts the first interactive museum of the world dedicated to the human being. In it, there can be discovered the different characteristics of the human species throughout almost 200 sections, the great majority of them being interactive. If you want more information regarding timetables and tickets, check out the following link: http://mc2coruna.org/domus/index.html
Museo Interactivo de la Historia de Lugo: this work, designed by the architects Nieto-Sobejano, was inaugurated in 2002 and is formed by an ensemble of cylindrical structures. The architects' idea was to create a park-museum, that is, a building emerging from the relationship with the landscape. In the museum, we can enter in contact with the historical evolution of Lugo throughout a permanent exhibition. For more information: http://www.lugo.es/ws/mihl/index.jsp
Apart from this brief selection we have come with, Galicia owns a great variety of contemporary buildings that have managed to integrate in our landscape, being nowadays tourist resources for every visitor that arrives to our community looking for something different. What are you waiting for to come here and visit them all?