Camino Portugués along the coast, from A Guarda
The Camino Portugués along the coast has been recognised as an official Camino route since only a short time ago. This itinerary stretches along the 280 kilometres that separate Porto from Santiago de Compostela in several stages that pass by the sea. Therefore there are many attractive aspects to this route: the natural landscape along the coast and the peaceful atmosphere along a route that is relatively unknown for the moment. Discover this impressive route with us in this 7-nights program.
From 850€ per person. Private and flexible. Check prices and availability.
Day 1: Meeting and first stage
We will meet in Porto or Douro Valley and transfer from there to A Guarda, located in the mouth of river Miño and in the border between Spain and Portugal. The first stage will be from A Guarda to Oia (13km) Since it´s our first day walking and we have been driving for a while the journey will be short. A good way of warming up. After checking in our hotel and resting for a while we could visit the impressive celtic village of Santa Tecla.
Day 2: Oia - Ramallosa. 23 km.
If the previous day was beautiful, today's will also be very attractive and varied: we will start our way along the coast, we will enjoy a beautiful stretch through the mountains with views of a lighthouse, and shortly after we will discover Baiona. Of course we can end the stage there, or extend it a few more kilometers to the town of A Ramallosa.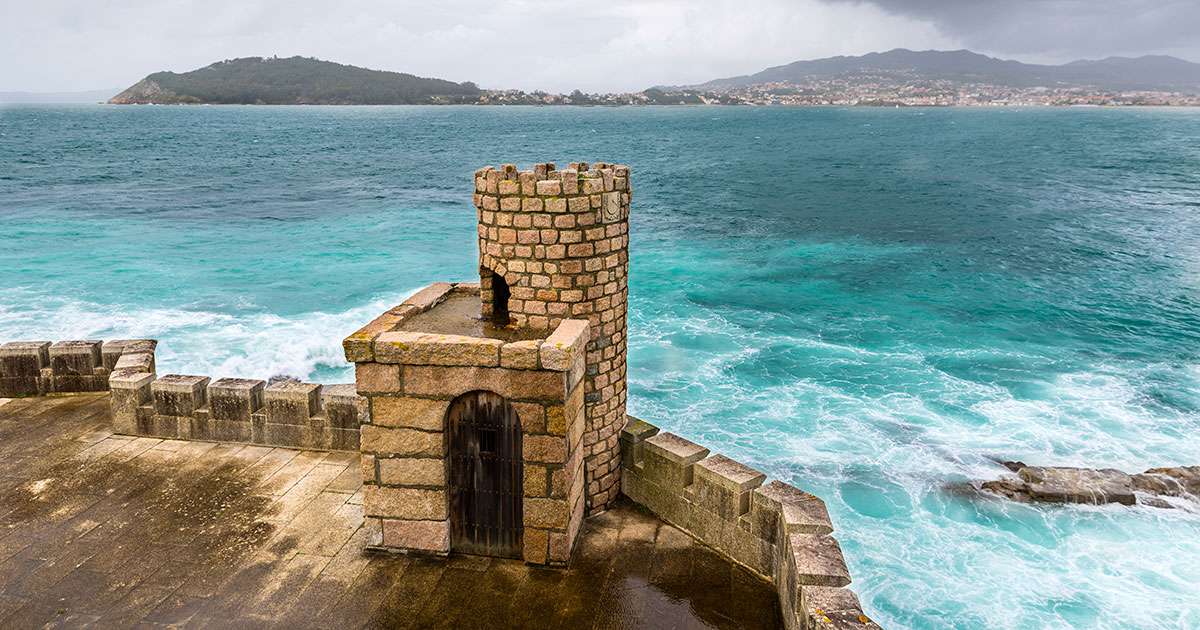 Day 3: Ramallosa - Vigo. 21 km.
From the A Ramallosa bridge, we follow the entire coastline until we reach the city of Vigo, passing through several beaches –very crowded in summer– and always with the amazing views of the Cíes Islands.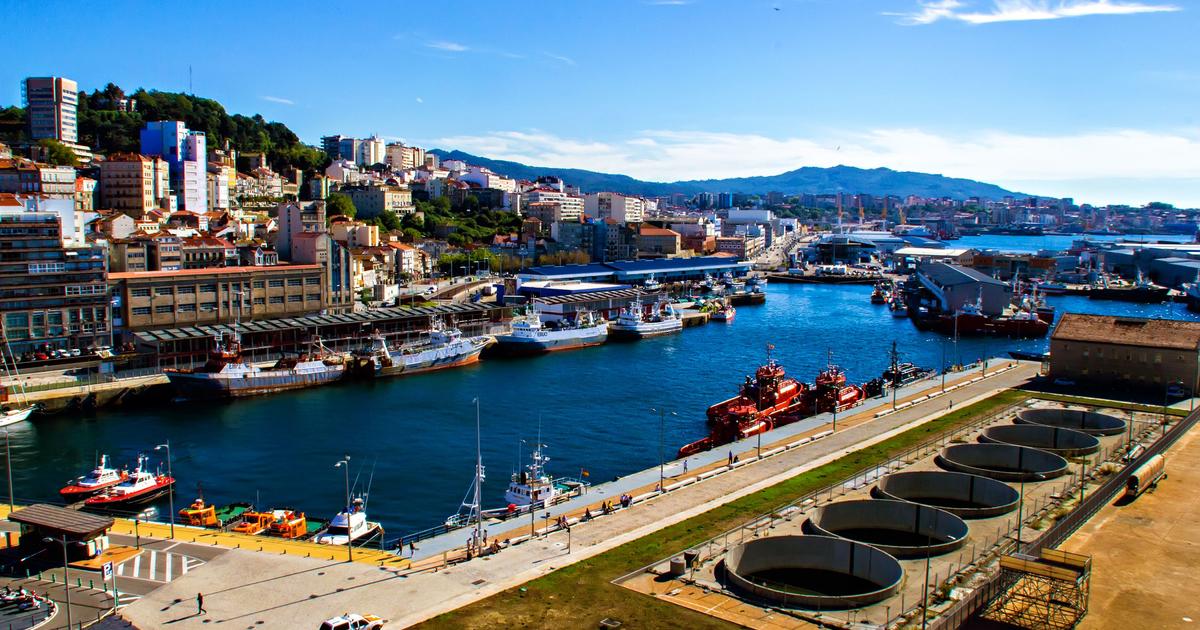 Day 4: Vigo - Redondela. 16 km.
The departure from Vigo offers us a pleasant surprise, as the itinerary runs along the Senda da Traída das Augas, with forests and panoramic views over the estuary. Upon entering Redondela, our Coastal Way converges with the Central Portuguese Way, the great Jacobean route that comes from Lisbon, Porto and Tui, along which we will continue for the next few days to Compostela.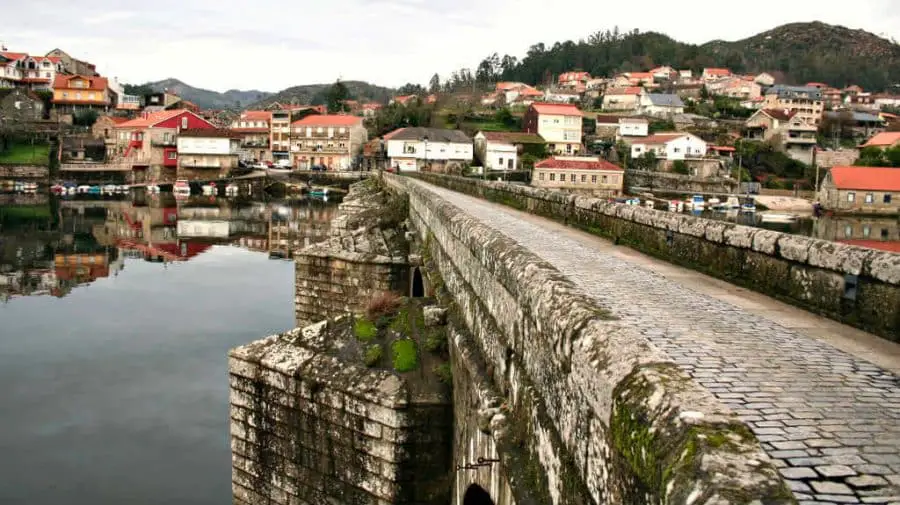 Day 5: Redondela - Pontevedra. 18 km.
Not very long and quite urban stage, although with really interesting sites. Today we face two ascents of 120 and 135 meters of difference in level respectively; they are progressive and do not pose any difficulty, although in the first one there are some steep slopes. We will be able to arrive to the city of Pontevedra, the provincial capital, taking advantage of a beautiful river path.
Day 6: Pontevedra-Caldas de Reis 21 km.
Short and simple stage with very few slopes. It follows the axis of the national N-550 and always goes along comfortable asphalt or dirt tracks. About 3 km apart from Pontevedra we have the option of taking the path known as "Variante Espiritual", which is gaining more followers every day among pilgrims. Today we finish in Caldas de Reis, a town famous for its thermal water springs.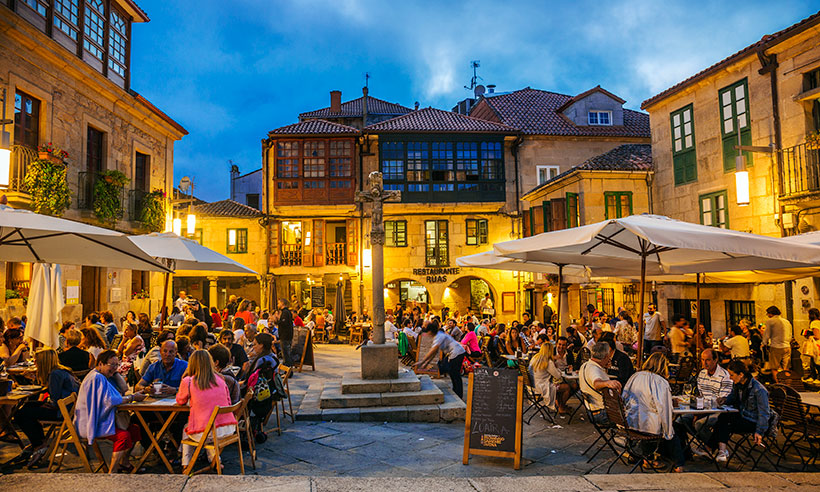 Day 7: Caldas de Reis - Padrón 18 km.
Perhaps the most scenically interesting stage of the Galician section of the Camino Portugues. Like yesterday, we follow the axis of the national N-550; today, however, the slopes, although moderate, are more frequent. Padrón, famous for its peppers, is a town of high cultural interest that will surprise you.
Day 8: Padrón - Santiago de Compostela. 24 km.
This last stage of the Portuguese Way runs largely through asphalt and urbanized areas. As for unevenness, it is worth mentioning the moderate and progressive ascent to Agro dos Monteiros, in O Milladoiro. In the cultural sphere, apart from Santiago with its extraordinary cathedral, it is worth mentioning the beautiful collegiate church of Iria Flavia, which was the first cathedral in Galicia and where in its cemetery, under an olive tree, we find the humble tomb of Camilo José Cela, famous spanish writer.
Availability
---
There is no availability for the selected date. Use the form to find other available dates