Cathedral, façades and squares
A complete tour of Santiago Cathedral. No queues, no waiting.
With an expert guide we will discover the secrets of its recently restored interior; as well as its Museum, the Cloister, the exterior facades and the surrounding squares.
Please note this tour is only available in Spanish.
During our tour we will visit both the outside and inside of the Cathedral, as well as the Museum.
We will pass through the Plaza del Obradoiro, where we will see the 4 different architectural styles found here: the famous baroque façade of the Cathedral, the Renaissance Hostal de los Reyes Católicos (a former pilgrims' hospital and now a Parador de Turismo), the Romanesque façade of the Pazo de San Xerome and the neoclassical Pazo de Raxoi.
Another of the squares we will visit is Platerías, named after the goldsmiths' workshops that have been located there since the Middle Ages. We will see the oldest façade of the cathedral, in Romanesque style, as well as the impressive Clock Tower and the horses fountain in the centre.
In the Plaza de Quintana we will learn about the interesting history of the necropolis hidden underneath, the Monastery of San Paio de Antealtares and we will see examples of baroque civil architecture such as the Casa de la Parra and the Casa de la Conga, without missing the important Holy Door.
The last of the squares will be Azabachería, the newest of them all, where we will learn about the work of the "azabacheros" and the history of the stunning Monastery of San Martín Pinario that is located here.
Once inside the Cathedral we will walk around the interior, discovering what the years of restoration work have brought to light, getting to know the different chapels, the Main Altar and the Church of the Corticela, among others, being surprised by the great height of its vaults.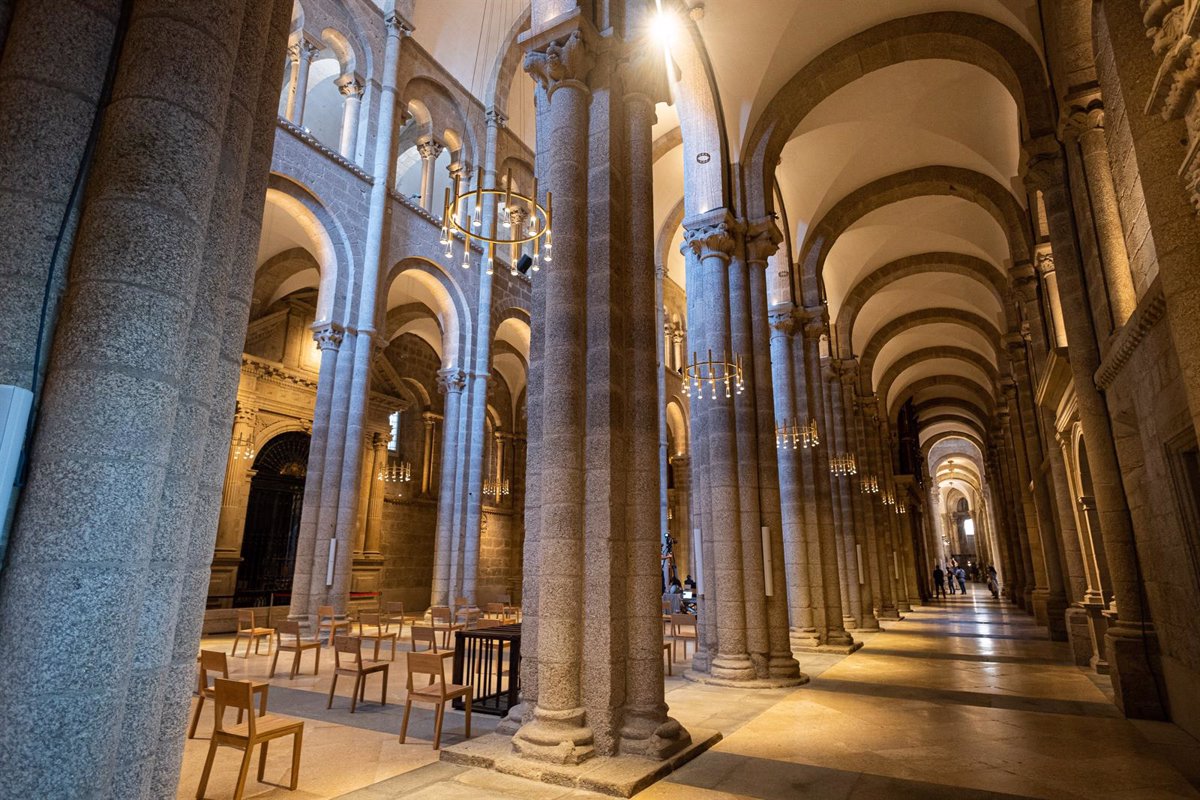 In the Museum we can learn more about the history of the Cathedral and the pilgrimage to Santiago. The Codex Calixtinus, the Museum's famous botafumeiro, the stony choir of Mestro Mateo, the impressive Chapter House with its important bibliographic collection... All this can be found inside, as well as other areas of interest such as the Treasury and the Chapel of the Relics.
And if this was not enough, you will be able to enjoy spectacular views of the Plaza del Obradoiro from the cathedral cloister to end this experience.
This tour includes:
- Local expert guide
- Entrance to the interior and Museum of the Cathedral
- Entrance to the Palace of Gelmirez
Duration: 2 hours approximately
Language: Spanish
Price: 24€. Children up to 12 years old 18€.
Meeting point: Door of the Cathedral Museum, Plaza del Obradoiro.
Telephone: +34 639 888 064
Availability
---
There is no availability for the selected date. Use the form to find other available dates