Finisterre and the Coast of Death
Ponte Maceira-Mirador das Paxareiras-Muros-Carnota-Ézaro (Cascada del Xallas)-Corcubión-Fisterra-Muxia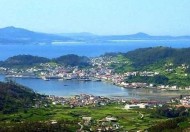 Muros
Recommended
Muros
On the far north of the Ría de Muros e Noia, Muros was founded in the 10th century by King Sancho but in 1298 King Fernando IV gifted it to the sea of Compostela. Today the town is a lovely historic centre, very lively in summer, with a great artistic heritage.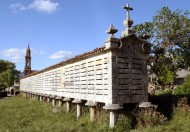 Carnota
Curious
Carnota
On these almost 7 km of beach, in winter you can observe several species of migratory birds. The Hórreo (granary) of Carnota, dating from 1760 and extending 35 m (126 ft), is one of the largest in Galicia. Hórreos were built on Stone legs to protect the grain from damp and pest. The cross is a decorative motif.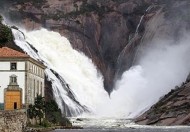 Ézaro (Xalla's falls)
Overwhelming
Ézaro (Xalla's falls)
In Ézaro, the Xallas river spills directly into the sea in a 40 meter high waterfall that offers a unique spectacle in Europe.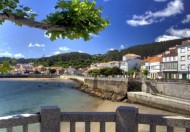 Corcubión
If you have enough time
Corcubión
The fishermen village of Corcubión with its maritime promenade, its port rebuilt after the army of Napoleon destructed it, the Miñones House... These are some of the spots to visit before arriving to Fisterra.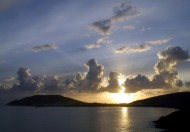 Finisterre
Essential
Finisterre
This fishing villaje has narrow tortuous streets presided by Praza de Ara Solis. Fisterra has lovely beaches, but the most attractive point is Cape Fisterra or Finisterra, as we know it, the Land's End of ancient times, where the sunset is spectacular.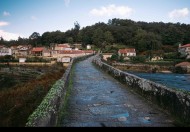 Ponte Maceira
Distinctive
Ponte Maceira
Bridge built in the 14th century on the request of the Archbishop of Compostela and rebuilt in the 18th century. In the Middle Ages, it was the crossing of the Tambre toward the lands of the North. Main section made up of five stone arches and an access section with two arcades for spillways. The central vault, supported by piers built into the rock, is ogival.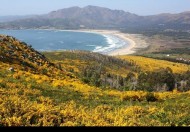 Paxareira's Viewpoint
Spectacular
Paxareira's Viewpoint
From here there are some truly spectacular views of the sea-shore of the Costa da Morte.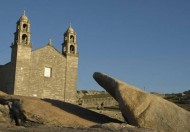 Muxía
Magical
Muxía
Famous for the Baroque Sanctuary of Virxe da Barca. Near the town are the monasteries of Ozón and San Xian de Moraime, the latter having the oldest columnar statues in Spain.