Tour Ribeira Sacra
Monforte de Lemos-Cañones del Sil-Doade-Castro Caldelas-Mirador de Cabezoas-Santo Estevo de Ribas de Sil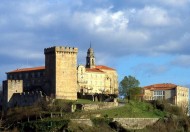 Monforte de Lemos
A must
Monforte de Lemos
On a hill overlooking the town are the remnants of a fortress-fragments of the massive walls, the palace of the Lemos family and the Monasterio de San Vicente do Pino, which has a Renaissance façade and conceals a Gothic interior.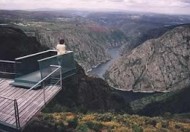 Cabezoas Viewpoint
Overwhelming
Cabezoas Viewpoint
It is a metal structure literally suspended above the Cañón del Sil, 600 feet above the water of the river. From here, there are some truly spectacular views of the meandering river and the majesty of the canyon takes the breath away.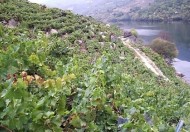 Doade
Feel
Doade
Wine has been produced in this part of the Ribeira Sacra since Roman times but it is only in recent years, with the introduction of new practices and the work of more visionary wine makers, that it has reached the highest standards and become highly prized. The vines are cultivated on stone terraces that climb almost vertically from the river to the sky. The steepness means that the grapes must still be picked and carried by hand – hard and laborious work.
Castro Caldelas
Curious
Castro Caldelas
Located in the centre of the town, the magnificent castle witnessed the great Irmandiña Revolt, which opposed feudal lords to the crown. It was also involved in the Peninsular Wars, that actually led to the town being destroyed by fire in 1810.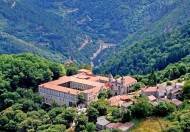 Santo Estevo de Ribas do Sil
Recommended
Santo Estevo de Ribas do Sil
Near its confluence with the Miño, the Sil river carves an exceptionally deep gorge in which dams form two reservoirs. A hairpin road winds to the top, where the Romanesque-Gothic Monastery of Santo Estevo de Rivas de Sil is situated high above the gorge.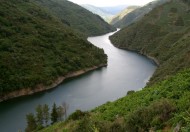 The Sil Canyon
Essential
The Sil Canyon
The Sil river flows through a deep gorge with walls rising 300 m (984 ft). According to the legend, Juno disfigured the "face" of Galicia with a gorge so that Jupiter would not find it appealing. With a navegable extension of 40km, you can observe different monasteries, churches and vineyards which give meaning to the name of the Ribeira Sacra.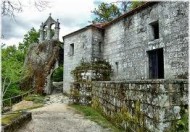 San Pedro de Rocas
Distinctive
San Pedro de Rocas
This monastery, which is unique due to the fact that it is excavated in the natural rock, displays none of the delicate Gothic structures nor the harmonious proportions of the Renaissance style. It is a very ancient, rough, almost primitive construction, which witnessed the first hermit settlements in the area. The historical value of San Pedro de Rocas (St. Peter of the Rocks) is more anthropological than aesthetic.