Tour to Lugo and The Way of St. James
Lugo-Portomarín-Sarria-Palas de Rei-Melide-Arzúa.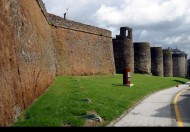 Lugo
Historical
Lugo
Lugo is the oldest of Galicia's provincial capitals. A settlement already existed here 2.000 years ago, and the Romans built a wall here, which today encircles the Old Town. Nowadays, visitors can walk along the top of the wall, from where there are good views of the city.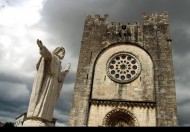 Portomarin
Curious
Portomarin
New Portomarín has been under construction since the mid-20th century in the highlands of the O Cristo mountains, on only the right hand bank of the river Miño. Old Portomarín lies under the waters of the Belesar reservoir.
Not everything was ex novo. The monument heritage that was declared a Historic Site of Interest before the flooding was moved stone-by-stone to its current location. The importance of the town on the Camino de Santiago has not been forgotten as one of the main points along the French route.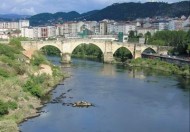 Sarria
Essential
Sarria
Sárria is a common starting point for pilgrimages to Santiago de Compostela, which lies 111 km (69 miles) away. The town was established by Alfonso IX, who died en route to Santiago.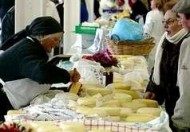 Arzúa
Recommended
Arzúa
In the centre of the village is the Church of La Magdalena that a few years before had belonged to the Convent of the Agustines who supported an important hospital in Arzúa. But the most important from Arzúa is their cheese.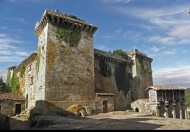 Palas de Rei, Vilar de Donas and Pambre's castle
If you have enough time
Palas de Rei, Vilar de Donas and Pambre's castle
The history of Palas de Rei appears closely linked to military culture, which retains many of the archaeological remains (dolmens and forts) from a remote settlement. Pambre Castle was built in the second half of the 14th century by Gonzalo Ozore de Ulloa. It is one of the few castles in Galicia that wasn't destroyed during the Irmandinos uprising.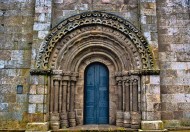 Melide
A must
Melide
Entering Melide, we find St Pedro's Church, whose old Romanesque façade and beautiful cross are preserved. The Museum Terra de Melide houses interesting objects that are very important to look back into the past of this region. Many years ago there was a castle and a fort in the place where today the Chapel of Carmen do Castelo and the cemetery are situated.