Atlantic Castros: pre-Roman history a few meters from the sea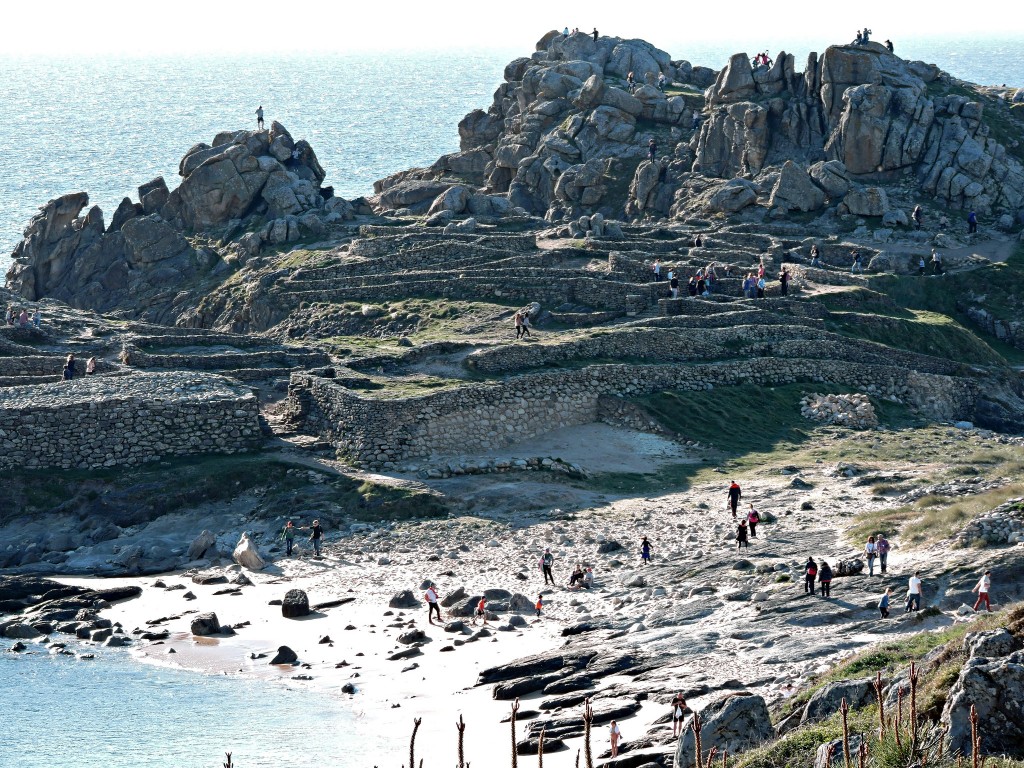 Galicia is a region with a dense and long history. Even his wavy relief, due to the secular erosion, is an evidence of the antiquity of this land.
Since the late Bronze Age to the beginning of our era (approximately between 700 BC and 1 AD), in the northwest of the Iberian Peninsula, in what would later be called Roman Gallaecia (actual Galicia's territory, plus the north of Portugal, greater part of Asturias, León, Zamora...), it was developed what now is commonly known as castrexa culture. A set of cultural events coined under the name of its characteristic circular walled villages and houses. Something like Armorique, the village of Asterix and Obelix.
In all this territory we can find remains from this period. The Atlantic zone is no exception. In the western Galicia are, among others, famous Castros like Baroña, Borneiro or Santa Tegra.
The Castro of Baroña is notable for the beauty of its surroundings and the uniqueness of the place chosen to locate the village. It is on a small rocky peninsula, separated from the mainland by a sandy isthmus. It was occupied between the 1st BC and the 1st AD centuries.
The Castro of Borneiro is one of the most representatives of Galicia, and also the first to have been scientifically dated with the carbon 14 method. It is estimated that it was inhabited between the 4th and 1st centuries BC. It did not become Romanized. There we can find find dozens of circular houses, located in a walled compound, and also some external auxiliary buildings.
The Castro of Santa Tegra, like Baroña, also enjoys a privileged location. From it, the entire circumference of the mouth of the river, in the current Galician-Portuguese border, is controlled. Its excavations began in 1913 and later, in 1931 it would be declared National Artistic Historical Monument. The origins of this town date back to the 2nd and 1st centuries BC.
In Art Natura we can help you design different routes to visit the Galician Castros, and you will also find our website two different options of tours with fixed departures in which you can visit places like those mentioned: Day trip to Finisterre and Day trip to Rías Baixas.