The biggest 'hórreo' in Galicia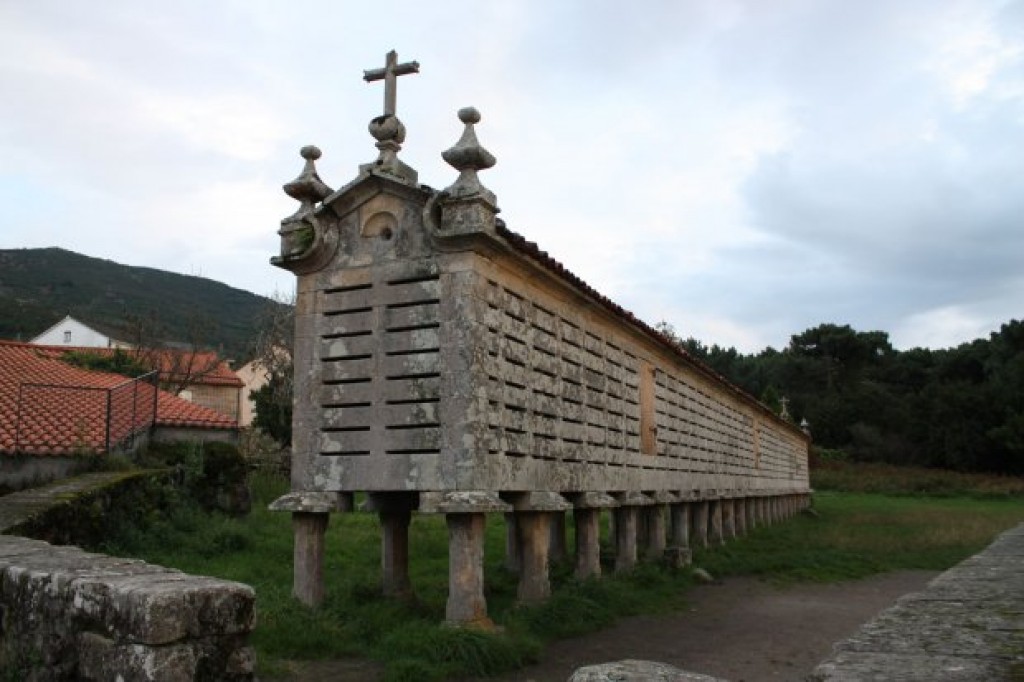 'Hórreos' (or granaries) are stone or wood constructions which are elevated from the floor with pilars and have always been used for storing the harvests. Depending on the area of Galicia we find ourselves, we will observe different styles in the building of the 'hórreos'. It is said that there have been more than 30.000 'hórreos' in Galicia, and they are usually small and very close to the houses.
There are also ensembles of 'hórreos' such as the one of A Merca (Ourense), and bigger 'hórreos' that used to belong to the church and nobility, such as the ones of Carnota or Lira.
Precisely between these two and the 'hórreo' of araño there is an endless discussion about which one is the biggest 'hórreo' of Galicia. Obviously, each community defends what is theirs, but the three of them are equally important because of their characteristics and dimensions.
The 'Hórreo' of Carnota was built at the end of the 18th century and it has been declared as National Monument, together with the Rectoral House, the Dovecote and the Santa Comba Church. It is one of the biggest in Galicia, with almost 35 metres of length and 1,90 metres of width.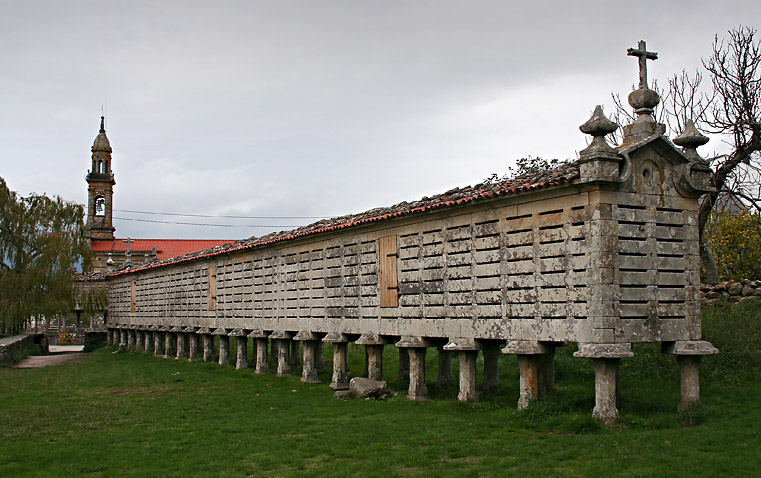 The 'Hórreo' of Lira was also built during the 18th century. It is located in the place of Lira, in the council of Carnota, and the ensemble of the 'hórreo' and the dovecote is also one of the most representatives of Galicia. The 'hórreo', one of the biggest, is almost 37 metres long and 1,60 metres wide.
These two compite with the 'Hórreo' of Araño, located in Rianxo and built during the 17th century. The ensemble is formed by the 'hórreo', the Santa Baia Church, and the chaped dedicated to Nuestra Señora de los Milagros de Araño. Despite the existence of this discussion, it is in fact the 'Hórreo' of Araño the biggest one, with 37 metres of lenght and 2,40 metres of width.
Without taking into account this "fight", the three of them are ensembles of popular architecture of great importante in Galicia thanks to their unique characteristics, as well as many other 'hórreos' in Galicia, becoming in this sense a mark of cultural identity of the community: the ensemble of 'hórreos' in Combarro, the 'Hórreo' of Piornedo...