The small underground mausoleum of the Cathedral of Santiago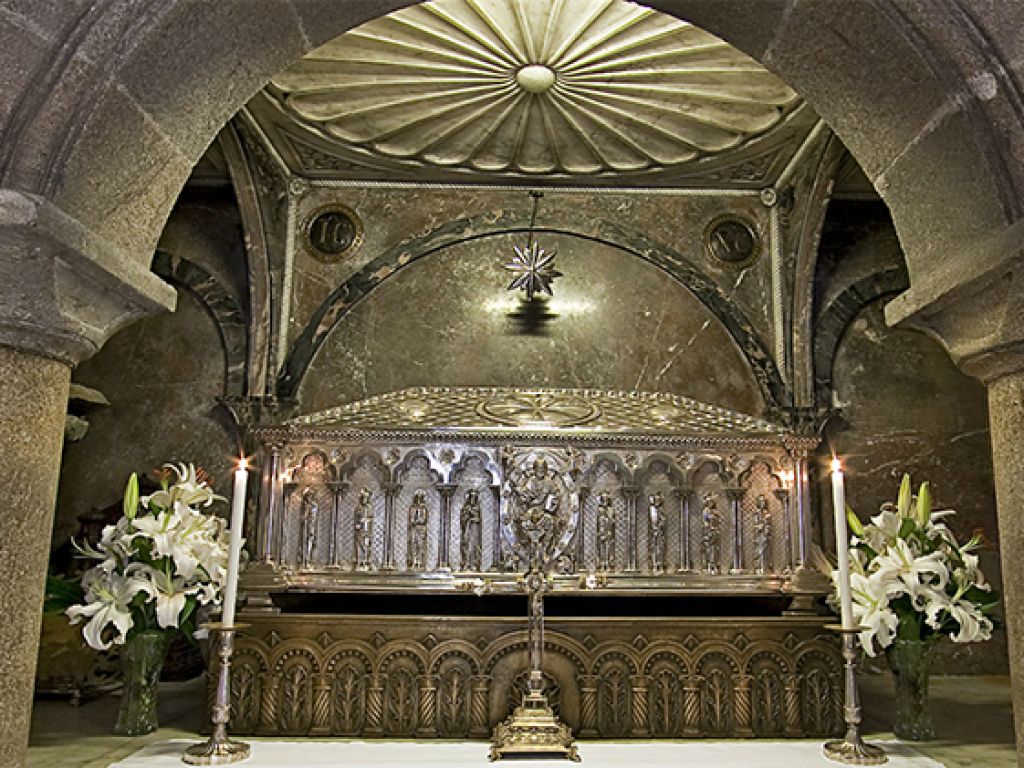 The Cathedral of Santiago de Compostela is one of the most important pilgrimage centers in the world to which millions of pilgrims come every year to venerate the remains of the Apostle Santiago. But where are these remains in the Cathedral of Compostela? Under the main altar we can see an urn where these remains are kept, together with Atanasio and Teodoro, his most faithful disciples.
This altar is easily recognizable because, today we can see in it a representation of Santiago in pilgrim's habit decorated all with solomonic columns, the canopy supported by angels and crowned by another representation of Santiago Apóstol, this time equestrian. We can also see the polychrome vaults, decoration of gold and silver and in the octagonal dome the system of pulleys that starts the Botafumeiro: a baroque show.
Also on the main altar will take place the famous Misa del Peregrino (every day at 12 in the morning) and from it the stairs go to the dressing room, where you can give the hug to a seated Santiago with the pilgrim's cloak. Going down those stairs we finally find the urn where the relics of the Apostle Santiago are kept, together with those of his disciples Teodoro y Atanasio: a sort of underground mausoleum that catches the attention of pilgrims and visitors.
It is the oldest and most sacred cult zone of the Cathedral, where these relics appear, according to the Códice Calixtino, in the 12th century. This goes down in history, and it is not until the end of the 19th century when the remains are rediscovered, in archaeological excavations promoted by Cardinal Payá y Rico. In the jubilee of 1982 pope Juan Pablo II stopped to pray in the crypt, gave the hug to the Apostle and went down to pray to the crypt before the remains: this was to become a symbol of jubilee.
From Art Natura we invite you to meet this small underground mausoleum, through the visits we organize to the cathedral of Santiago from Monday to Friday at 12.30 in Spanish and Monday, Wednesday and Friday at 4.30 in English. For more information https://www.artnaturagalicia.com/reservas/actividades/actividad-1/fe:/fs:/ca:/